MAKING ALL YOUR PRINTING NEEDS HAPPEN!
Your Source For Print Materials.


From Business Cards to Banners

.
Yard Signs
The most economical yard sign available! These yard signs are printed on weather-resistant corrugated 4mm plastic. Our signs are virtually indestructible and have unique advantages over the other types of yard signs and lawn signs we offer, including easier storage, installation that does not require tools, and less expensive! Lawn signs can be placed in front of homes and businesses, as well as areas with slower moving traffic. Double sided printing requires the same art on both sides.

Real Estate Signs
Quality real estate yard signs enables any realtor to create eye catching, full color for sale signs that can be easily installed in the yard of your home listings. Using our sign design tools your yard signs can include photos, graphics and any color scheme that makes the real estate signage you create to market your home listings shine!

Political Signs
250 Corrugated Plastic Signs $620.00!!
18"x24" Corrugated Plastic Signs
1 Color, 2 sided - Stakes Included
Free Graphic Design - No Screen Charges
*Shipping and Handling not included

Magnets For Business and Personal
Mobile advertising is the quickest method to advertise your business.
  Whether you have a car, truck, van or need custom sizes, Triple J Publishing can quickly create your brand and have your product being noticed every time you or your employees drive your vehicle(s).
Businesses of all sizes rely on Triple J Publishing to promote their companies while on the road. In seconds you can transform a vehicle into a rolling advertisement with magnet signs. They help you to spread the word about you anywhere you drive or park, and Triple J Publishing can provide you with incredible looking magnetics that fit most cars with ease.
Magnetic signs not only help you advertise but they are also great identity builders for your brand. They give your company a professional image every time one of your representatives pulls into a client's location as you proudly display your message, logo and contact information.

Cars, Trucks, Vans
Magnetic Signs from Triple J Publishing are printed in full color to reflect your company logos, the services your offer and enable any personal or fleet vehicle to be transformed into a mobile billboard - advertising your company every time your employees have to get on the road.
These magnetic signs can be removed and applied to any vehicle easily and quickly, so even your employee's cars can represent your business as they travel to and from work, or head to a potential client to close your next sale.
With our quantity discounts on multiple orders, you will be able to print as many signs as you need to ensure every employee can have signs temporarily applied to each side of their car. Choose from many of our design ideas to begin creating your custom car signs today!

Magnetic Car Signs:
Use                           Cars, 6-12 Months
Material                    20 mil Magnetic Material, Gloss Finish
Printing                     Full Color Digital UV
Ease of Installation   

Easy - Apply Directly to a Clean, Smooth, Metal Surface (not for use on aluminum or other non-ferrous metals)
Save-The-Date Magnets
These cards are choice for any wedding style, from classic to modern! A large photo display gives you plenty of room to show off your favorite picture. Your guests will love this stunning photo Save the Date design!

Full Color Vinyl Banners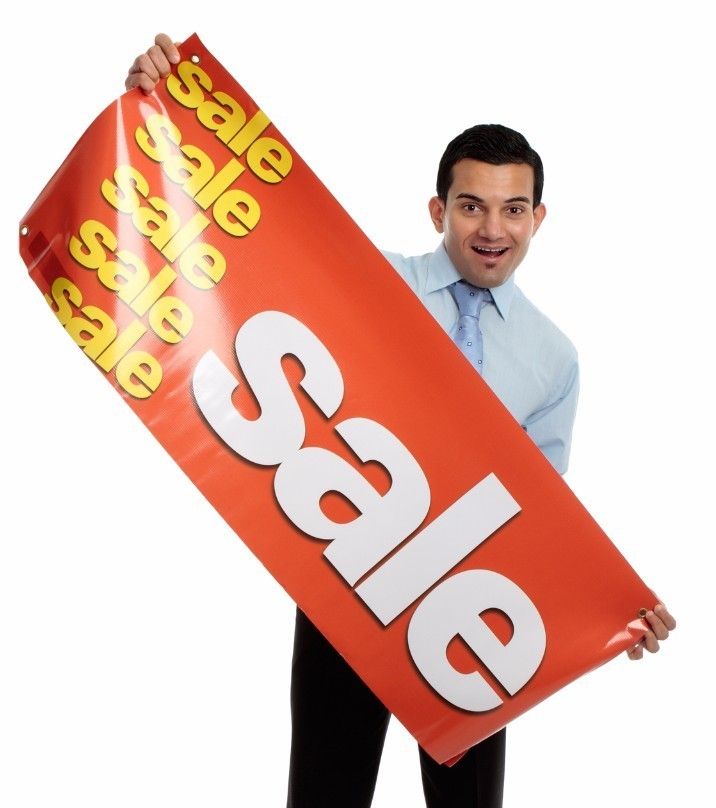 Delivered Fast, Easy, and Totally Awesome!

Banner (Indoor & Outdoor)
Vinyl banners are affordable, durable and extremely versatile, which make them a perfect option for almost any situation.

Banner (Indoor & Outdoor)
Vinyl banners are affordable, durable and extremely versatile, which make them a perfect option for almost any situation.

Custom vinyl banners come in a variety of materials including standard, glossy, matte and even canvas. Vinyl banners can be customized with your image and artwork to help convey your personalized message.

Vinyl banners are weatherproof and UV protected for outdoor use, and extremely easy to clean. Because they are portable and easy to set up and take down, vinyl banners are perfect for travel and easy to use at trade shows and conventions. 


Mesh Banners
Generally, Mesh Banners are used for outdoor events such as festivals, celebrations and concerts because they allow wind and sound to pass through the material.
 
Another common use is for store front banners. Mesh Banner material permits some visibility through windows and also allows natural light into the store.
 
Mesh Banners are suitable for situations where a banner will be subjected to high wind conditions. Since the material is more lightweight, mesh is a viable alternative to vinyl to counteract the "sail" effect in windy conditions.